Provider Newsletters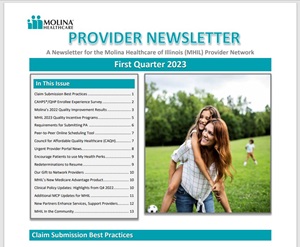 Molina Healthcare of Illinois publishes the Provider Newsletter for our valued provider partners. This publication offers in-depth information on Molina's programs and services. We strive to provide you with information that will help you care for Molina members.
Please contact Provider Services at (855) 866-5462 with suggestions or comments on improving our communications with you.
MHIL Provider Newsletters
Adobe Acrobat Reader is required to view the file(s) above. Download a free version.