The Molina Healthcare Charitable Foundation Donates $5,000 to National Alliance on Mental Illness of Greater Orlando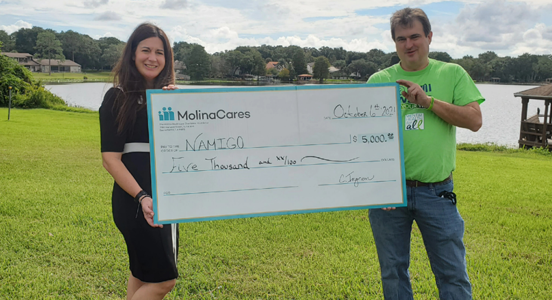 10/06/2021
ORLANDO, Fla. Oct. 6, 2021 – The Molina Healthcare Charitable Foundation, in collaboration with Molina Healthcare of Florida ("Molina") has donated $5,000 to the National Alliance on Mental Illness of Greater Orlando (NAMIGO).
The grant will support Family to Family educational classes for those in the area who have experience with mental illness. It will also help fund Mental Illness Awareness Week activities designed to end the stigma surrounding mental illness and encourage community involvement.
"Working to end the stigma of mental illness is a top priority at Molina," said Sherry Thornton-Main, associate vice president of community engagement for Molina Healthcare of Florida. "We're grateful for the opportunity to partner with NAMIGO to help raise awareness in the communities we serve."
"At NAMIGO, we're dedicated to improving the quality of life for individuals affected by mental illness and to supporting them through education, support and advocacy.," said Eric Welch, executive director of NAMIGO. "We're so grateful to those who come alongside us in these efforts."
Mental Illness Awareness Week takes place September 29 through October 10 and includes 10 events through the greater Orlando area.
About The Molina Healthcare Charitable Foundation
The Molina Healthcare Charitable Foundation is a 501(c)(3) established in 2020 by Molina Healthcare, Inc. The Molina Healthcare Charitable Foundation was created to improve the health and well-being of disadvantaged populations by funding meaningful, measurable, and innovative programs and solutions that improve health, life, and living in local communities.
About Molina Healthcare of Florida
Molina Healthcare of Florida has been providing government-funded, quality health care since 2008. The Company serves members through Medicaid, Medicare and Health Insurance Exchange programs throughout Florida. Through its locally operated health plans, Molina Healthcare, Inc., a FORTUNE 500 company, served approximately 4.7 million members as of June 30, 2021.
About NAMIGO
For more information on Family to Family, please reach out to NAMIGO at (407) 253-1900 or www.namigo.org.