Corporate Social Responsibility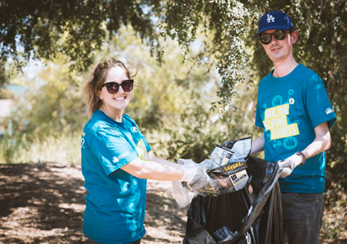 For over 40 years, we have been committed to improving our members' health and making a difference in the communities we serve. We participate in a variety of philanthropic activities, advancing our mission of providing access to people in need while empowering our employees and collaborating with mission-driven community-based organizations.
Recognizing community champions
Since 2006, we've recognized outstanding individuals in their communities who go above and beyond to support people in need. Through our Community Champions Awards program, each year we honor everyday heroes across the country – volunteers, health professionals and advocates – who demonstrate selfless dedication to making a positive impact on the lives of others and their local communities. Winners are honored at a recognition event and receive grants they can use to "pay-it-forward" to the nonprofit of their choice.
Empowering employees to give back
What's special about our employees is their desire to help others. We want to make it easy for our employees to connect with the populations we serve and feel good about being able to give back to their local communities. Through our MolinaCares VTO employee volunteer program, our teams organize volunteer activities and work with hundreds of nonprofits across the country that are making positive change. The MolinaCares VTO program also organizes quarterly donation drives, allowing employees to donate items that will directly help people in need. Additionally, we offer full-time employees a Volunteer Time Off (VTO) benefit, which gives them paid time off to participate in volunteer activities. All Molina employees receive 24 VTO hours per year, and they are encouraged to use it all to support the causes closest to their hearts.
Investing in causes and organizations making a difference locally
We realize that our work is often made possible through collaboration with individuals and nonprofits across the country that are working to improve access to health care, education, food and other resources critical to staying healthy. We make it a priority to invest in programs, grants and grassroots projects in our local markets. Across the country, we organize and sponsor community events including baby showers, back-to-school events, coat drives, healthy food giveaways and many other local initiatives aimed at improving the health and well-being of the communities we serve.

We also find unique ways to make lasting investments in communities through beautification projects and Molina Closet programs. The closets serve as permanent resources for people working to transition into permanent, independent housing. Made possible by donations from Molina Healthcare and our employees, closets provide necessities like personal care items and diapers.
Practicing sustainability
We are committed to promoting a sustainable work environment and have taken steps to minimize our impact on the environment. Through energy-saving strategies, ethical practices and a priority of reducing waste, we are proactive in identifying ways to minimize our footprint. We encourage our employees to do so by promoting use of electric vehicles, offering a robust rideshare program and organizing MolinaCares VTO program volunteer activities that keep our communities clean.